The Hellhound RX 6650 XT Takes on the RTX 3060 & RTX 3060 Ti in 38 Games+
The PowerColor Hellhound RX 6650 XT takes on the RTX 3060 & RTX 3060 Ti in 38 Games – Latest Preview Driver, OC'ing, Workstation, GPGPU +
A new Hellhound RX 6650 XT arrived at BTR for evaluation from PowerColor as a premium and overclocked 8GB vRAM-equipped 128-bit card at $409 although the base models start at a rather high $399 considering it is targeting 1080P and with only a mild speed bump over the $379 RX 6600 XT.  Using a borrowed PC GamerZ Hawaii 'Blue Elixir' 12700KF PC, we have been exhaustively comparing it versus the $399 RTX 3060 EVGA Black XC 12GB and versus the unavailable-at-any-resonable price, RTX 3060 Ti 8GB Founders Edition. Using AMD's latest Preview public driver for Win 11, we test 38 games, GPGPU, workstation, SPEC, and synthetic benchmarks.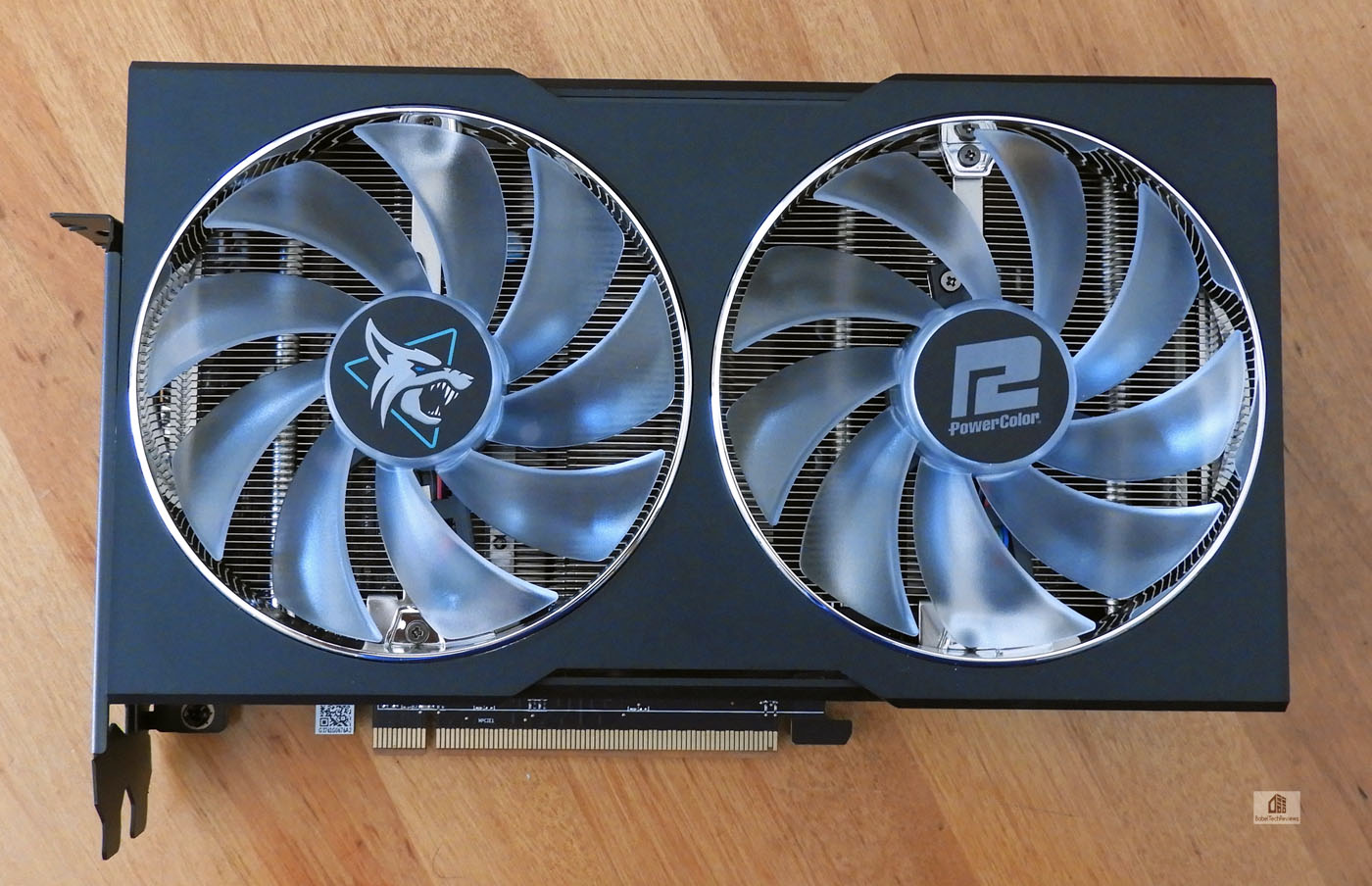 This editor is in Honolulu for the month of May on a working vacation, so we asked PC GamerZ for a 12700KF/DDR4 PC that we will compare with BTR's flagship 12900K/DDR5 PC for an upcoming review next month.  The owner kindly allowed us to switch out video cards and we brought along a EVGA RTX 3060 XC Black and a RTX 3060 Ti Founders Edition (FE) for comparison with the Hellhound.
The Hellhound RX 6650 XT is factory clocked higher than the reference version using its OC BIOS.  While the reference Radeon RX 6600 XT offers a Game clock up to 2359MHz and a Boost clock of 2589MHz, its replacement reference RX 6650 XT has a Game clock up to 2410MHz and a Boost clock up to 2635MHz – a 2% improvement.  The GDDR6 memory clocks of the RX 6650 XT (17.5Gbps) is clocked about 9% higher than that of the RX 6600 XT.  The Hellhound RX 6650 XT game clocks up to 2486MHz and further boosts to 2689MHz.  The RX 6650 XT board power is increased by around 13% over the RX 6600 XT so the Hellhound RX 6650 XT tames its thermals by using a dual fan design whose LED lights up in blue.
Additional Information from PowerColor
PowerColor newest RX 6650 XT Hellhound, is positioned to compete with custom 3060 premium models.
PowerColor Hellhound RX 6650 XT is equipped with a dual fan design (2x 100mm), a cooler with 3X6Φ nickel-plated heatpipes, and a smooth nickel-plated copper base that enhances heat dissipation.
The card has 2 modes, OC and Silent. There's a BIOS switch on the side of the card. We designed this card to be very quiet, even on performance mode it's considerably quieter than most silent cards.  We advise trying the silent mode as it's truly whisper quiet.
The board has 10 Phase VS the 6+2 Phase VRM design on the standard designs meaning is over spec'd in order to deliver the best
stability and overclock headroom, and by having such VRM it will run cooler and last longer.
DrMOS provides superior power efficiency and offers better thermal protection, and the 6+2 phases VRM guarantees better overclocking and stability, no compromises.
Dual 100mm fans optimized static pressure fan design provides more air flow and longer circulation; at this TDP there is no need of oversized 3 fan coolers, better sized and yet efficient cooling!
Hellhound features the blue LED lighting on the shroud and backplate that provides a cold color to light up in your case.
Hellhound has Mute fan technology, fans stop under 60c!
The metal backplate strengthens the card and improves the airflow through the cuts. It does not use thermal pads but instead the cuts allow the PCB to breath, which under high heat scenarios is more beneficial than having thermal pads as otherwise a back plate can become a heat trap.
RX 6000 features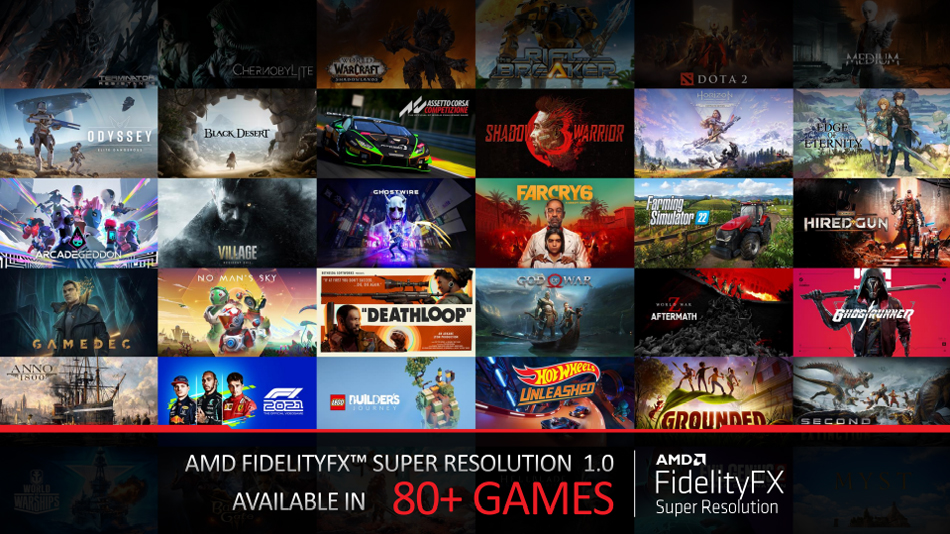 AMD has their own ecosystem for gamers and many unique new features for the Radeon 6000 series including the FidelityFX 1.0 Super Resolution upscaler and the brand new 2.0 version that looks about as good as native resolution in Deathloop.
Infinity Cache and Smart Access Memory are two other important components of many included in Adrenalin software.
Infinity Cache & Smart Access Memory
AMD's RDNA 2 architecture includes the Infinity Cache which alters the way data is delivered to GPUs. This global cache allows fast data
access and increases bandwidth.  This optimized on-die cache uses 96MB of AMD Infinity Cache delivering up to 2.5x the effective bandwidth compared to 256-bit 12Gbps GDDR6.
BTR is using an Intel 12th generation CPU, the i9-12700KF, which does not have this cache available so our results will probably be lower than what a gamer using a full Ryzen 5000 platform will achieve.  In addition, we don't have Smart Access Memory.
AMD's Smart Access Memory is a new feature for the Radeon RX 6000 Series graphics cards that enables additional memory space to be mapped to the base address register resulting in performance gains for select games when paired with an AMD Ryzen 5000 Series processor or with some Ryzen 3000 series CPUs.  Using PCIe, the Base Address Register (BAR) defines how much GPU memory space can be mapped.  Without using Smart Access Memory, CPUs can generally access up to 256MB of GPU memory restricting performance somewhat.
NVIDIA has worked with its partners and with Intel to enable Resizable BAR which currently is enabled for the ASUS H670-DDR4 motherboard.  We also enabled it for the RX 6650 XT and tested all of our video cards and games with Resizable BAR.
The Test Bed 
BTR's test bed consists of 38 games and 5 synthetic game benchmarks at 1920×1080 as well as SPEC, workstation, and GPGPU benchmarks.  Our latest games include Total War: Warhammer III, God of War, Ghostwire: Tokyo, Elden Ring, Dying Light 2 and CoD: Vanguard.  The testing platform uses a recent installation of Windows 11 Pro Edition, and our CPU is an i9-12700KF, an ASUS TUF Gaming H670-PRO WIFI D4 motherboard, and 16GB of G.SKILL Trident DDR4 at 3600MHz. The games, settings, and hardware are identical except for the cards being compared.