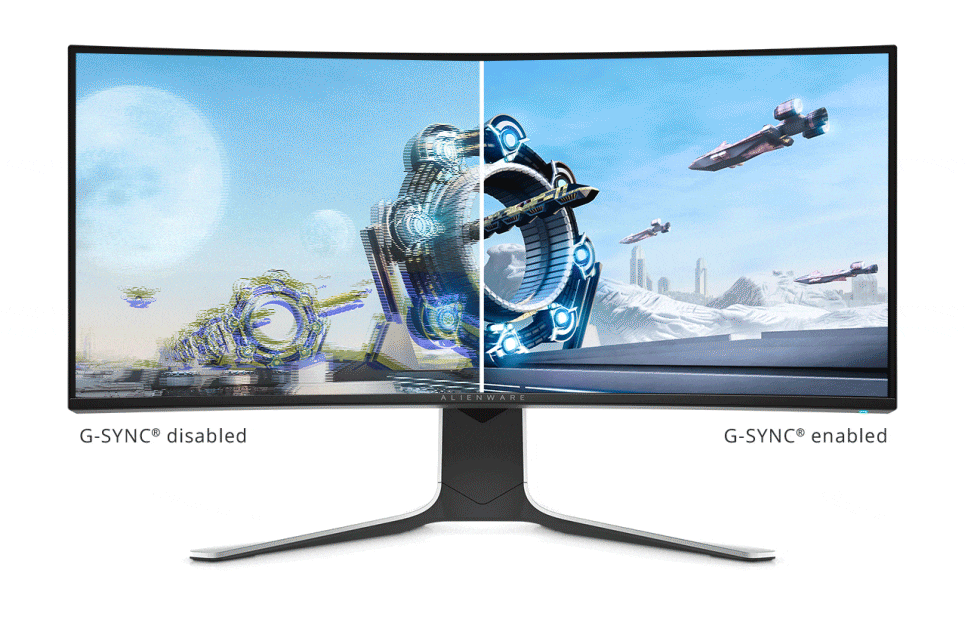 Get lost in the game
The full array: With new IPS Nano Color technology, you experience colors as they were designed to be by the content creators with 98% DCI-P3 color coverage, which is a professional color gamut that has greater range than sRGB. In a flash: A true 2ms gray-to-gray response time with Overdrive and the 120Hz refresh rate enables fast, responsive gameplay with no artificial tricks needed. The 120Hz refresh rate keeps up with the action, allowing you to experience every moment of the world you're gaming in. Ready to roll: NVIDIA® G-SYNC™ technology displays full frames only when the monitor is ready to display them. This means your screen frames stay in sync with your NVIDIA® graphics card, so you can say goodbye to distortions—like tearing and artifacts—and get used to smooth, vibrant images. See everything: Completely immerse yourself with a sweeping, 1900R curved display that takes you deeper into the game and a 21:9 aspect ratio that makes every vantage point epic. The curved screen maximizes your field of vision, reducing eye movement, so you can stay comfortably focused on the game longer. Get real: A 3440 X 1440 WQHD resolution display delivers sharp, crystal-clear graphics with 4.9 million pixels—1.79 times more detail than a WFHD display. So you'll see every blade of grass, every glint of steel, every drop of sweat more vividly, intensely and richly than ever before.
---
An advantage from every angle
Real speed: New, fast Nano Color IPS technology for gaming allows for a true 2ms response time, not an artificial anti-blurring solution that impacts brightness, adaptive sync or the worlds you're exploring. No wash out: Whether you game head on, or at an angle, you'll see all the action clearly with IPS (in plane switching) technology. True colors: With up to 98% DCI-P3 color coverage, you have a wide array of colors in your arsenal.
---
A legend rises
In a return to form, Alienware has introduced the Legend Industrial Design. It is a new, bolder, sculpted, universal, minimal and iconic expression of the Alienware brand. It's also engineered for cable management, with quick-access ports on the underside and a cable pass-through in the stand. Plus, the height adjustable tilt and swivel abilities mean you're always positioned to game at your best.
---
Custom lighting with AlienFX
Enhance your gaming experience with AlienFX—a fully customizable lighting system designed to bring you closer to the worlds you play in, with dynamic lighting effects tied directly to the in-game actioni and full RGB values. Four independent customizable lighting zones on the monitor combined with other AlienFX enabled devices allows you to personalize your entire battle station to match your style. Create and download unique themes effortlessly for over 145 different games.
---
Dynamic on-screen display
Stay in a gaming state of mind with a unique new gaming-centric menu with easy-to-use dashboard, plus customizable preset game modes, an FPS counter and guiding lines for a multi-screen setup.
---
Connectivity Options
Ports & Slots: 1. Power | 2. Audio Line-out | 3. HDMI | 4. DisplayPort | 5. VESA mount | 6. USB 3.1 Gen 1 with Power Charging | 7. Downlights & touch sensor | 8. Headphone jack | 9. USB 3.1 Gen 1 | 10. USB upstream | 11. (2X) USB 3.1 Gen 1 Cables Included: 1. Power cable | 2. DP cable | 3. MiniDP-DP cable | 4. USB 3.0 Upstream cable
---
Height: 16.92 inches ~ 22.02 inches (429.8.0mm ~ 559.4mm) | Width: 32.01 inches (813.0mm) | Depth: 10.78 inches (273.8mm) | Weight panel only (for VESA) 14.99 lbs (6.8kg), Monitor and cables with full packaging 37.25 lbs (16.9kg) 
i
---